a reconstruction and an underground passage
Louise Hervé & Clovis Maillet
09.09.2009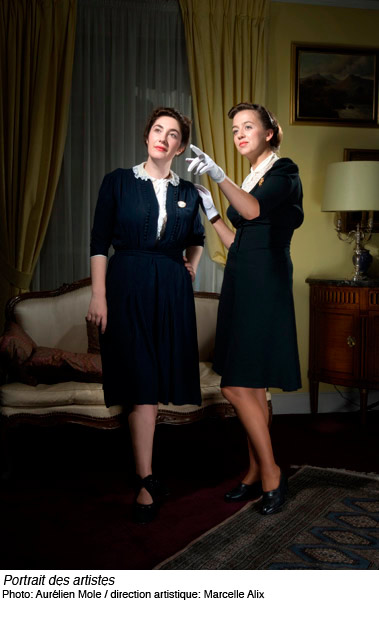 Wednesday, September 9th, 7:30pm Meeting at the fountain of Ménilmontant Square (141 rue de Ménilmontant, 75020, Paris, Pelleport or Télégraphe metro stops).

After a short journey through Belleville, the performance will end at the gallery (4 rue Jouye Rouve, 75020 Paris, Pyrénées or Belleville metro stops). Duration 40 min. Performance in French.

At this event we will learn how the Saint Simonians sold their house, how Fantômas renovated his, and why Sumerian demons always settle in underground places.
(...) In the very first episode of the 1913 Fantômas series, directed by Louis Feuillade, while Fantômas is held in jail, a real-time play recounts the equivocations of the Crime Genius as he awaits execution. The play gives Lady Beltham, his lover and accomplice, an idea. She tells the actor still wearing his Fantômas costume to meet her in an apartment near the prison while she bribes the warden to let her see Fantômas one last time, alone. At the right moment she drugs the actor and puts him in Fantômas's cell, allowing her lover to escape. The concept of plays held in synch with current events dates back to the beginning of the 19th century. Saint Simonians - pioneers in many different domains - had imagined public performances with Prosper Enfantin, Saint Simon's main follower, showing their daily activities each week in Ménilmontant. Is it said that the audience followed with great interest the progress of this utopia in action. Michel Chevalier superbly ended these performances with the procession than descended rue de Ménilmontant to the court, to attend in music the Enfantin trial of August 1832. (...)

Louise Hervé and Chloé Maillet were born in 1981. They have worked together in Paris since 2000. Through the I.I.I.I (International Institute of Important Items), they produce genre movies, performed conferences and installations which have recently been programmed in Grazer Kunstverein (Austria), Palais de Tokyo (Paris, F), MAC/VAL (Vitry-sur- Seine, F), Synagogue de Delme (F), La Box (Bourges, F). http://www.iiiiassociation.org/
Une inauguration en deux épisodes où l'on apprend comment les saints simoniens ont vendu leur maison, comment Fantômas a rénové la sienne, et finalement pourquoi les démons sumériens s?installent toujours dans les sous-sols.

Performance de Louise Hervé et Chloé Maillet, mercredi 9 septembre à 19h30 Passage des saint simoniens (Paris 20e).
(...) Dans le tout premier épisode de la série des Fantômas mis en scène par Louis Feuillade à partir de 1913, une pièce de théâtre retrace en temps réel (Fantômas est effectivement sous les verrous) les atermoiements du Génie du crime retenu en prison attendant son exécution. Ceci donne une idée à Lady Beltham, sa maîtresse et complice. Elle donne rendez-vous à l'acteur encore grimé pour le rôle dans un appartement proche de la prison, tout en soudoyant un gardien pour qu'il lui accorde une entrevue avec son amant à la veille de son exécution. Au moment dit, elle drogue l'acteur et lui fait prendre la place de Fantômas, permettant à ce dernier de s'enfuir. L'idée que les pièces de théâtre puissent être en phase avec l'actualité la plus proche remonte d'ailleurs au début du XIXe siècle. Les saint-simoniens, précurseurs à bien des égards, avaient imaginé avec Prosper Enfantin, principal disciple de Saint-Simon, de donner chaque semaine en représentation à Ménilmontant une adaptation scénique de leurs activités quotidiennes. Le public suivait, dit-on, avec intérêt la marche de cette utopie en actes. Michel Chevalier clôtura avec éclat ces représentations en organisant le cortège qui descendit la rue de Ménilmontant en août 1832 pour se rendre en musique jusqu'au palais de justice assister au procès d'Enfantin. (...)