La fureur de l'atome
Ernesto Sartori
10.04.2010 - 22.05.2010, vernissage 10.04.2010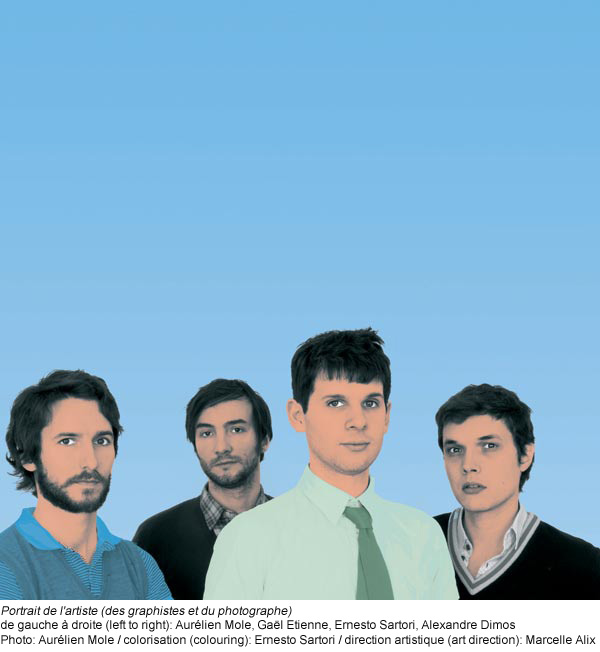 There is nothing purely "Surrealist? or "literary" about Ernesto Sartori's work. Its very incongruity has a theoretical seriousness. Brandishing tubes of gouache, watered-down oil paint, and fluorescent water-colour pens, he works mainly on wooden surfaces, making installations from modular elements. With a genuine concern for rigour, which hallmarks his drawings and paintings alike, and as one who subscribes to a non-conformist logic, his world can be compared with the activities of Kurt Schwitters, Paul Thek, and Robert Smithson, like a tribute paid to nature's possible.
You see bits of landscape filled with human beings, animals and monsters.

In this system of dovetailed slopes and forms, you set off to conquer the ground; you tell yourself that your body will grow accustomed to this new position, you who have only ever known things perpendicular. You explore this continuous world, forever unfolding, from up high, surveying and vista-like. No more inertia and no more habits, you evolve between ascent and descent, fatigue and euphoria.

You've given up balance and comfort. You'd rather follow the slope that occurs naturally when you pile up oranges and tennis balls. Parallelohedra permit you to cobble the space to perfection. Your basic module is called, by mathematicians, the rhombic dodecahedron, a twelve-sided polyhedron made up of regular lozenges.

You're seeking the origin, the first postulate. Are these spaces, these objects and these situations the outcome of a deviant gravity? Yet Newton's laws seem, at first glance, unaltered: earlier on, you glimpsed horizontal expanses of water.

You observe, and you are observed. Days are never empty. You fail to grasp where your friends are, and who your enemies are. Everyone has a mission and a role to play: the man carrying a form on his back the way you carry knowledge, the fearsome lizard prowling, the pile of flesh, the hair that grows longer like in the Japanese legend, and athletes acting as bait for zombies.
You're looking for a function in everything. You tell yourself that this place is a hideaway if you can hide in it, and that this surface is a table if you can put an object on it.

Large lines in the form of banisters and railings run at different heights in this world. Perhaps they are hijacked construction tools, as in the Carceri of that Italian engraver and architect you like so much. Perhaps it's a matter of seeing through these things a scaled-down world as described by the person who imagines two hundred bodies in a cylinder, subject to extremely rigorous hierarchies and laws. Triggering an atom's fury, you now know, is an operation similar to making a bridge between two different points.

CB

Ernest Sartori was born in Vicenza, Italy, in 1982; he has been living in Nantes (France) since 2002. Winner of the City of Nantes Prize in 2008, he has taken part in the show Par des rigoles, des canaux, la forme est conductrice at Les Instants Chavirés (Montreuil, France). He recently curated Plus réel que l'herbe #1 (les cratères du futur) at Zoo Galerie (Nantes) and is currently involved in the Ateliers des Arques residency programme in the Lot (southwest France) http://www.ateliersdesarques.com/
---
Le travail d'Ernesto Sartori n'a rien de purement "surréaliste" ou "littéraire". Il doit être pris au sérieux théorique de son incongruité même. Armé de tubes de gouache, de peinture glycéro très diluée ou de stylos aquarellés fluo, il travaille principalement sur des surfaces de bois et des installations faites d'éléments modulaires. Avec un authentique souci de rigueur présent aussi bien dans ses dessins et ses peintures, adepte d'une logique non conformiste, on peut rapprocher son univers des pratiques de Kurt Schwitters, Paul Thek, ou Robert Smithson, comme un hommage aux possibles écarts de la nature.
Tu vois des fragments de paysages peuplés d'êtres humains, d'animaux et de monstres.

Dans ce système de pentes et de formes emboîtées, tu pars à la conquête du sol ; tu te dis que ton corps s'habituera à cette nouvelle position, toi qui n'as connu que la perpendiculaire. Tu explores ce monde continu, au déroulement permanent, par vues plongeantes, en surplomb ou en échappée. Plus d'inertie et plus d'habitudes, tu évolues entre montée et descente, fatigue et euphorie.

Tu as renoncé à l'équilibre, au confort. Tu préfères suivre la pente que l'on obtient naturellement lorsqu'on empile des oranges ou des balles de tennis. Les paralléloèdres te permettent de paver l'espace à la perfection. Ton module de départ, les mathématiciens l'appellent le dodécaèdre rhombique, un polyèdre à douze faces composé de losanges réguliers.

Tu cherches l'origine, le postulat de départ. Ces espaces, ces objets et ces situations seraient-ils le produit d'une gravité déviante? Pourtant, les lois de Newton semblent à première vue inchangées: plus tôt, tu as aperçu des plans d'eau horizontaux.

Tu observes, et tu es observé. Les journées ne sont jamais creuses. Tu ne parviens pas à saisir où sont les amis et qui sont les ennemis. Chacun a une mission ou un rôle à jouer : l'homme qui porte une forme sur son dos comme on porte un savoir, le terrible lézard qui rôde, le tas de chair, le cheveu qui s'allonge comme dans la légende japonaise ou encore les sportifs qui servent d'appâts aux zombies.

Tu cherches la fonction de chaque chose. Tu te dis que cet endroit est une cachette si on peut s'y cacher, et que ce plan est une table si on peut y poser un objet.

De grandes lignes en forme de rampes ou de rails courent sur les différentes hauteurs de ce monde. Peut-être sont-elles des outils de construction détournés comme dans les Carceri de ce graveur et architecte italien que tu aimes bien. Peut-être s'agit-il de voir à travers ces éléments un monde en réduction tel que le décrit celui qui imagine deux cents corps dans un cylindre, soumis à des hiérarchies et des lois extrêmement rigoureuses. Déclencher une fureur de l'atome, tu le sais maintenant, c'est une opération semblable à celle qui consiste à créer un pont pour relier deux points.

CB

Ernesto Sartori est né à Vicenza (Italie) en 1982 et vit à Nantes depuis 2002. Lauréat du Prix de la Ville de Nantes en 2008, il a participé à l'exposition Par des rigoles, des canaux, la forme est conductrice aux Instants Chavirés (Montreuil) en 2009. Il a récemment assuré le commissariat et la mise en espace de Plus réel que l'herbe #1 (les cratères du futur) à la Zoo galerie, et fait actuellement partie du programme de résidence des Ateliers des Arques dans le Lot http://www.ateliersdesarques.com/