Villa Surprise
Charlotte Moth
13.09.2012 - 03.11.2012, vernissage 13.09.2012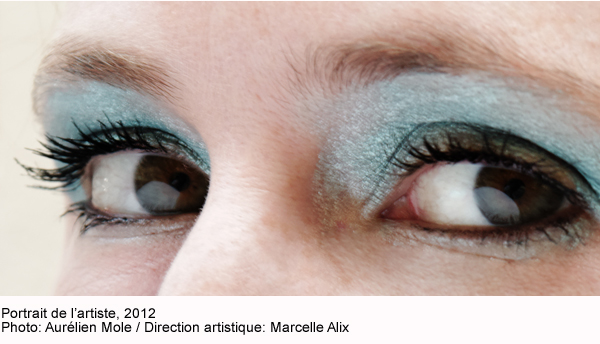 What do the Modernist architectures that we come across without really seeing mean? How do we account for these forms that became so common we forgot where they came from? How do we describe them so they start to speak about what exists, about who we are? Charlotte Moth creates her own anthropology, so to speak: "that which will speak about us, which will search in us for what we have plundered for so long in others. Not the exotic, but the endoctic." There is in this work something of the "infra-ordinary" that Georges Perec was tracking down. Where"s our life? Our body? Our space? These questions go beyond the photographic field to include the movements and flickering which come from a great variety of surfaces, as they are modulated by light and colour.

Since 2003, Charlotte Moth has been called a photographer, this label should be used tentatively. Of course photography is at the core of this composite, complex and multi-layered work. The collection of images entitled Travelogue, which the artist has been developing for years, forms a whole that continues to grow, without any order or hierarchy. Moth's camera investigates exemplary Modernist architectural projects, such as Robert Mallet-Stevens's realizations, as well as more generic buildings. She also spends time studying archives before visiting particular sites. For example, she immersed herself in Raoul Hausmann's writings in Rochechouart and then went to Ibiza, to have a closer look at the cubic structures of ancient houses that the Dada artist had noticed in the 30's and related to the Modernist movement, at a time when the island remained a land forgotten by the exterior world and by progress.

Her work presents itself as a series of frames: the frame which derives directly from the photographic act, to that which consists in using a sequined curtain to explore the conditions of the emergence of an image contained by architecture. In the installation entitled The Absent Forms (2010), Charlotte Moth had gathered a considerable number of frames to produce actions meant to be photographed in Rue Mallet-Stevens, in Paris, with the assistance of props used as "protagonists" of a film in progress. Reflecting panels, balloons, a plant, plays with light, different pieces of fabric covering a wooden frame, were appearing in the frame of the camera, while another volume on wheels underlined, like a magnifying glass, the idea that life is a theatre, with its deep, almost unconscious, impressions.

The exhibition Villa Surprise gathers different works made from similar principles of connections and juxtapositions. They pursue a discussion about the complex relations in-between photography and sculpture. The works in the exhibition contribute to tighten those bonds and to define the parts played by the different media that the artist uses, as film has become more and more present in the last few years.
In Study for a 16mm film, Moth's camera scrutinizes tables of coloured surfaces and cloth, onto which different objects, parts of the artist's personal collection, are presented. The film almost reveals the activity of a sculptress, when Moth patiently deals with the objects to shape new visibilities in space. Scales constantly merge and Moth's sculpture can often be seen as an object that takes the shape of a model, capable of gathering an energy that we might call living.
It's also the case in In Unexpected Places, in Unexpected Lights and Colours (a Sculpture Made to be Filmed), a film produced in Marfa, Texas during the Fieldwork residency, featuring a light-sculpture made by the artist and installed not far from Donald Judd's famous "boxes". Through the animated reflection of a low-fi technical sharpness, this "machine", conceived after Raoul Hausmann's principles, unveils a relation to its environment that is not only that of a motif to its background. Everything can move, come closer or leave the image.
Willa Niespodzianka stages the photograph of a Modernist house taken in Otwock, Poland, and installed on-site to be photographed again, in front of the actual building. Unpredictably, the villa was destroyed in the mean time and the project was therefore modified, as it became a tribute to a type of architecture bound to disappear. If the motif of the disappearance seems to be recurrent in the exhibition, while the photo of the big poster of the Polish house stands near an empty plinth photographed in the Buttes-Chaumont park, there is no feeling of vacuity involved. On the contrary, the idea is to make these architectures, their internal and symbolic relationships, more permanent and objective.

Charlotte Moth's work betrays a great aptitude to opening up, and a fascination for repeating and differentiating surfaces. In the recent years, the artist has developed a principle which cancels the fundamental opposition between photography and sculpture, and preferred to create possible bridges between these media, just like Brancusi had imagined them, when he admitted the necessity to photograph volumes, to highlight a sculpted surface. Moth considers the visual effects of volume through the photographic act, to depict paradoxical situations. Like Brancusi, she interlocks operations of sculpture and photography. But unlike him, the combination of volumes appears through photography and small objects or immaterial things, such as the use of colour, screened by light through transparent surfaces.
Her capacity to translate into one movement a conceptual tradition, a fundamental question on art's means, and a very precise vision of the goals that she assigns to herself, is what we admire in Charlotte Moth. What's essential to her approach is an inexhaustible thirst to make and render things visible. She is constantly asking us what we want from art. And our answer always seems to be the same: a responsible endoctic, a possibility to remodel an aesthetic tradition on a personal and topical mode, without a hint of nostalgia or reactionary movement. An artistic position that gives us the means to read inside ourselves.

MA
Charlotte Moth was born in 1978 in the United Kingdom. She has been living in Paris since 2007. Her recent projects include a personal exhibition at Centre d'art contemporain de Genève (cur. Emilie Bujès, summer 2012), a solo at Frieze New York, an exhibition and a publication produced by the Serralves Foundation in Porto (cur. Ricardo Nicolau, fall 2011). Her first institutional exhibitions were organized in 2010 and 2011 by Hannes Loichinger and Olivier Michelon, respectively at Halle für Kunst in Lüneburg (Germany) and at Musée de Rochechouart (France). Her film The Absent Forms will be presented in the Façades exhibition at Netwerk in Aalst, Belgium, Sept 22 Nov 18, as well as in the Lux Biennial of Moving Images in Tramway, Glasgow, Scotland, Sept 14-16.

Special thanks to: our friend and accomplice for three years (already) Aurélien Mole, to Emilie Bujès and the team of the Centre d'art contemporain de Genève, for the production of In Unexpected Places, in Unexpected Lights and Colours (a Sculpture Made to be Filmed), Caroline Hancock, Kasia Redzisz and Magda Materna (www.openartprojects.org), Miroslaw Balka, Ricardo Nicolau and the Serralves Foundation for the production of Study for a 16mm film, Hannes Loichinger, Olivier Michelon and Raffaella della Olga.

late opening at the occasion of the 2nd Belleville Biennial, Sat, Sept 15th until 9 pm
Que signifient les architectures modernistes que nous croisons sans y penser ? Comment rendre compte de ces formes devenues si communes que nous en avons oublié l'origine? Comment les décrire pour qu'elles se mettent à parler de ce qui est, de ce que nous sommes ? Charlotte Moth crée pour ainsi dire sa propre anthropologie : « Celle qui parlera de nous, qui ira chercher en nous ce que nous avons si longtemps pillé chez les autres. Non plus l'exotique, mais l'endoctique ». Il y a dans ce travail quelque chose de l'infra-ordinaire traqué par Georges Perec. Où est notre vie ? Notre corps ? Notre espace ? Ces interrogations débordent le champ du « photographique » pour inclure le mouvement et les palpitations qui se manifestent à partir d'une grande variété de surfaces, modulées par la lumière et la couleur.
Depuis 2003, on a tenté de désigner Charlotte Moth comme photographe. Il faut dire que la photographie agit au coeur de cette oeuvre composite, complexe et à niveaux multiples. La collection d'images intitulée Travelogue, que l'artiste développe depuis plusieurs années, forme un ensemble qui ne cesse de croître, sans ordre ni hiérarchie. Moth enquête avec son appareil, sur les traces de projets d'architectures modernistes exemplaires comme celles de Robert Mallet- Stevens et de bâtiments plus génériques. Il lui arrive aussi d'étudier des archives avant de visiter des sites particuliers. Ainsi, s'est-elle plongée dans les écrits de l'artiste Raoul Hausmann à Rochechouart pour se rendre plus tard à Ibiza, regarder de près les structures cubiques d'anciennes habitations que l'artiste Dada avait su remarquer dans les années 1930 et lier au mouvement moderne, au temps où l'île demeurait une terre oubliée par le monde extérieur et le progrès.

Le travail de Charlotte Moth se présente comme une succession de cadres. Depuis celui qui concerne très directement l'acte photographique, à celui qui consiste à se servir d'un rideau à sequins pour explorer les conditions d'apparition d'une image contenue par l'architecture. Dans l'installation intitulée The Absent Forms (2010), Charlotte Moth avait réunit un nombre considérable de cadres pour la réalisation d'actions photographiées dans la rue Mallet-Stevens à Paris, à partir d'accessoires, utilisés comme les « protagonistes » d'un film en devenir. Tour à tour, apparaissaient dans le cadre des panneaux réflecteurs, des ballons, une plante, des jeux de lumière, différents tissus recouvrant un cadre en bois, tandis qu'un autre en volume sur roulettes ajoutait, comme le font les verres grossissants, à l'idée que la vie même est une organisation théâtrale, avec ses impressions profondes, presque inconscientes.

L'exposition Villa Surprise réunit plusieurs oeuvres sur des principes de rapprochements et de juxtapositions similaires. L'ensemble des réalisations poursuit le débat qui touche aux relations complexes qu'entretiennent la photographie et la sculpture. Les oeuvres de l'exposition contribuent à resserrer ces liens et à définir le rôle des différents médiums utilisés par l'artiste, le film étant de plus en plus présent ces deux dernières années.
Dans Study for a 16mm film, la camera de Charlotte Moth scrute des tables recouvertes de tissus colorés, sur lesquelles sont présentés différents objets que l'artiste collecte depuis de nombreuses années. C'est quasi une activité de sculpteur que révèle le film, lorsque Moth négocie patiemment avec les objets, pour modeler d'autres visibilités de l'espace. Les échelles se confondent constamment et la sculpture chez l'artiste se regarde souvent comme un objet à l'état de maquette, capable de ramener à lui une énergie que l'on peut appeler le vivant.
C'est également le cas dans In Unexpected Places, in Unexpected Lights and Colours (a Sculpture Made to be Filmed), film produit à Marfa au Texas pendant la résidence Fieldwork, à partir d'une sculpture lumineuse réalisée par l'artiste et installée à proximité des fameuses « boxes » de Donald Judd. Cette « machine » conçue selon des principes énoncés par Raoul Hausmann, révèle par le reflet animé d'une finesse technique low-fi, un rapport à son environnement qui n'est pas seulement celui de la forme au fond. Tout peut bouger, venir ou s'en aller.
Willa Niespodzianka met en scène la photographie d'une maison moderniste prise à Otwock en Pologne et installée in situ pour y être re-photographiée, face au bâtiment. De façon imprévisible, la villa avait été détruite entre-temps et le projet ainsi modifié, prenait l'apparence d'un hommage à une architecture à l'avenir menacé. Si le motif de la disparition semble ici récurrent, alors que la grande affiche de la maison polonaise installée dans la forêt côtoie un socle vide photographié aux Buttes-Chaumont, il ne s'agit pas là de se laisser aller à un sentiment de vacuité, mais de rendre ces architectures, ces relations internes et symboliques, plus permanentes et objectives.

Le travail de Charlotte Moth montre une aptitude au décloisonnement et une fascination pour le redoublement et les différenciations de surface. L'artiste a développé ses dernières années un principe qui annule l'opposition fondamentale entre la photographie et la sculpture, préférant créer de possibles passerelles entre ces deux médiums telles que les avait imaginées Brancusi, lorsqu'il admettait la nécessité de photographier des volumes, pour s'intéresser à une sculpture de la surface. Moth considère les effets visuels du volume par l'action photographique pour obtenir des situations paradoxales. Comme Brancusi, elle réalise une imbrication des opérations de sculpture et de photographie. Mais contrairement à lui, la combinatoire des volumes se fait par la photographie et par des choses peu volumineuses et même immatérielles comme l'utilisation de la couleur, diffusée par la lumière à partir de surfaces transparentes.
C'est cette capacité à traduire en un seul mouvement une tradition conceptuelle, une interrogation fondamentale sur les moyens de l'art, et une vision très précise des buts qu'elle se fixe, que nous admirons chez Charlotte Moth. Ce qui est essentiel dans sa démarche est, pour nous, une volonté inépuisable de faire et de donner à voir. Elle nous demande continuellement ce que nous cherchons dans les oeuvres d'art. Et la réponse semble toujours égale : une endoctique assumée, une possibilité de remodeler une tradition esthétique sur un mode personnel et actuel, sans verser dans la nostalgie ou la réaction. Une posture d?artiste qui nous donne les moyens de lire en nous-mêmes.

MA
Charlotte Moth est née en 1978 au Royaume-Uni. Elle vit à Paris depuis 2007. Parmi ses projets récents on compte une exposition personnelle au Centre d?art contemporain de Genève (cur. Emilie Bujès, été 2012), un solo à Frieze New York, une exposition et une publication produites par la Fondation Serralves à Porto (cur. Ricardo Nicolau, automne 2011). Ses premières expositions dans des institutions publiques ont été organisées en 2010 et 2011 par Hannes Loichinger et Olivier Michelon, respectivement à la Halle für Kunst de Lüneburg (Allemagne) et au Musée de Rochechouart (France). Son film The Absent Forms sera présenté dans le cadre de l'exposition Façades à Netwerk, Aalst, Belgique, du 22 septembre au 18 novembre et à l'occasion de Lux Biennial of Moving Images à Tramway, Glasgow, Ecosse, du 14 au 16 septembre.

Remerciements à: Aurélien Mole, notre complice depuis 3 ans (déjà !), Emilie Bujès et l'équipe du Centre d'art contemporain de Genève, pour la production de In Unexpected Places, in Unexpected Lights and Colours (a Sculpture Made to be Filmed), Caroline Hancock, Kasia Redzisz et Magda Materna (www.openartprojects.org), Miroslaw Balka, Ricardo Nicolau et la Fondation Serralves, pour la prodution de Study for a 16mm film, Hannes Loichinger, Olivier Michelon et Raffaella della Olga.
nocturne dans le cadre de la 2ème Biennale de Belleville, samedi 15 septembre, jusqu'à 21h