PrÚsage
Eva Barto, Lola GonzÓlez
10.04.2015 - 06.06.2015, vernissage 10.04.2015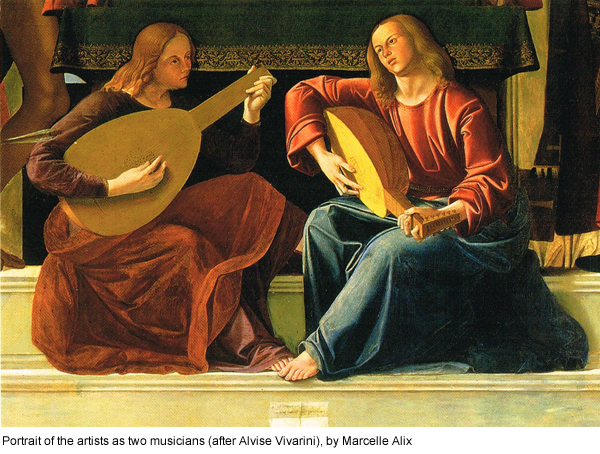 plus bas en français

This exhibition takes us five years back, at a time when nothing seemed predictable to us but for an outcome to our exchange based on questions of desire and energy. We did not know what we were about to undertake together so decided to let it unravel as we moved forward. Eva Barto and Lola Gonzàlez had never met until now. They agreed on a presentation format that shows the degree of maturity they've respectively reached in considering their own work: neither of them feels a need to assert or claim anything. What their practices establish, on the other hand, is a common inclination towards a lifestyle that positions them as artists among a generation that produces a sufficiently rooted discourse so that its voices hear one another and resonate together despite the general hustle.
One of the films Eva Barto mentionned in the course of our initital discussions was "F for fake" at the end of which Orson Wells claims: « I must believe that art itself is real ». This seems like a good starting point. What is truly "real" in art? Is any given artwork anything else but a fragment or a fetish intended for collection? We already were concerned with these questions as we organised the gallery's first group shows.

In The Matrix, which depicts a future in which "modern" life is nothing but a virtual projection emanating from a far gloomier hidden reality, Morpheus greets Neo: -"Welcome to the desert of the real". Borrowing this catch phrase to entitle his 2002 essay, the philosopher Slavoj Zizek writes that the 09/11 attacks may have drawn the West's attention on terrorist threat by letting in the "Third-World horrors (...), this fantasy screen, in our reality." As they fully acknowledge that this "desert of the real" is constitutive of the contemporary liberal democracy they've known all their lives, Barto and Gonzàlez are offering us two distinct ways in which the real can be reconsidered within the exhibition space.

An expert on copy and games of equivalences (and drawing on an established tradition of institutional critique), Barto acts like a counterfeiter who enjoys questioning the norms usually set for these spaces. Where are her pieces installed in the gallery? Onlookers must pay attention to the tiniest clue as the artist plays with details that usually compete with the displayed works and which an exhibition space normally tries to hide. Being confronted to what is swept under the rug forces us to question the stuff a work is made of; what is "worthy" of our attention. It is also a means to play with the elitist codes of the art world: rather than rounding the survey and evaluation of a subjective display in a few minutes' gaze at the gallery's wall, the visitor is led to watch carefully all of what can be seen in the exhibition rooms as well as paying attention to what goes on in the spaces that connect them.

Lola Gonzàlez's films shown in the gallery portray a group of young people who appear to enjoy a "great outdoors" lifestyle. A gang we'd love to hang out with, who produces dialogues in which we seem to be invited to partake. As we watch their gestures and listen to their words more closely however, one film after the other, the threads that weave the cast's relationships become gradually visible and a lot less shallow than it initially appeared. "We've grown accustomed to a neutral concept of friendship as a form of fondness without consequence whereas all affinity is in fact a bond within a common truth." Nurtured by the emotional ties that animate her friendly community, Gonzàlez's search for a common truth embodies a new, chosen, version of a reality whereby the deadly injunction to "get real" is tirelessly fought.

Through their work, Barto and Gonzàlez make us come to think that what is "real" in art is what we decide to fabricate together. It is not about limiting ourselves to "realism", to what is possible or what will - or won't - "work". It is the strength of what we build collectively that allows us to reach for the impossible-at last.

IA

Eva Barto was born in 1987 in Nantes (F), she lives in Paris. A graduate of the Paris, School of Fine Arts, she was part of the post-degree program of the Lyon School of Fine Arts in 2013. Since 2011, her works were part of exhibitions at Primo Piano, Paris, La BF15, Lyon, La Friche de la Belle de Mai, Marseille, W139, Amsterdam, Temporary Gallery, Cologne, and at the Ratti Foundation in Italy. She will be part of the Printemps de l'Art Contemporain in Marseille from May 14 to 30.

Lola Gonzàlez was born in 1988 in Angoulême (F), she lives in Paris. She graduated from the Lyon School of Fine Arts in 2012. Since then, she has shown her works at Centre Pompidou (Hors-Pistes Festival), at Salon de Montrouge, at Treize, at La Galerie/ Noisy-le-sec art center, at Palais de Tokyo and at Le Magasin, Grenoble.
A selection of her films will be presented at Villa Belleville on April 12 and at Progress Gallery on April 16. In Septembre 2015, she will take part of the Rendez-vous exhibition at IAC Villeurbanne at the occasion of the Lyon Biennale.

Special thanks: François Orphelin, Yeelen Raynaud and Camila Renz
--
Cette exposition nous ramène cinq ans en arrière, quand rien ne nous semblait prévisible, mais davantage le résultat d'échanges reposant sur des questions d'envie et d'énergie. Sans savoir ce que nous allions fabriquer ensemble, nous avons décidé de voir venir. Eva Barto et Lola Gonzàlez, qui ne se connaissaient pas, on pris le parti de s'entendre sur une présentation qui montre à quel point elles ont toutes deux suffisamment de recul sur leur travail pour ne pas se sentir obligées d'affirmer et de revendiquer. Ce que leurs pratiques respectives mettent en place, c'est un goût pour un mode de vie qui fait d'elles des artistes, aussi parce que cette génération a appris à produire une adresse suffisamment positionnée pour que leurs voix s'entendent et résonnent, par-delà le tohu-bohu général.
« I must believe that art itself is real » dit Orson Welles à la fin de F for Fake, l'un des films qu'Eva Barto avait évoqués lors de nos premiers échanges. C'est un beau commencement. Qu'est-ce qui est véritablement "réel" dans l'art? Une oeuvre est-elle autre chose qu'un fragment, voire un fétiche destiné à la collection? Ces questions nous occupaient lorsque nous avions organisé les premières expositions collectives de la galerie.
« Bienvenue dans le désert du réel » affirme Morpheus à Neo dans Matrix, film qui dépeint un futur dans lequel la vie "moderne" n'est qu'une projection virtuelle provenant d'une réalité plus sordide et plus souterraine. Dans un livre publié en 2002 dont le titre emprunte cette expression, le philosophe Slavoj Zizek émet l'idée que les attentats du 11 septembre 2001 aient polarisé l'attention occidentale sur la menace terroriste en faisant entrer « les horreurs du tiers-monde (…), cet écran fantasmatique, dans notre réalité », empêchant ainsi l'analyse sociale, interne, que nous pourrions faire de nos sociétés. Prenant acte de ce "désert du réel" propre à la démocratie libérale contemporaine dans laquelle elles ont toujours vécu, Barto et Gonzàlez nous proposent deux façons de reconsidérer le réel dans l'espace d'exposition.

Eva Barto se plaît à remettre en cause les normes de ces espaces, dans la tradition d'une critique institutionnelle qui se mettrait au service de cette faussaire, spécialiste de la copie et des jeux d'équivalence. Où se trouvent les œuvres dans la galerie ? Le visiteur est invité à guetter le moindre indice. L'artiste nous convie à une attention particulière, englobant ces détails qui entrent d'habitude en concurrence avec les objets de l'exposition et que la galerie s'efforce traditionnellement de dissimuler. Dénuder les "cache-misère" c'est nous amener à nous questionner sur ce qui "fait œuvre" et sur ce qui "mérite" notre attention. C'est aussi déjouer les codes élitistes de l'art. Plutôt que de regarder et de juger en quelques minutes un accrochage subjectif sur les murs de la galerie, le visiteur inspectera chacun des éléments en présence et interrogera d'un regard vigilant ses espaces intermédiaires.

Les films de Lola Gonzàlez montrés ici mettent en scène un groupe de jeunes gens qui aiment profiter d'une vie en plein air, une bande dont nous aimerions bien faire partie et qui produit des dialogues auxquels nous sommes conviés. C'est en regardant leurs gestes et en écoutant leurs mots de film en film que l'on touche à ce qui fait la réalité de leurs liens, moins légers que ce qu'il nous a d'abord semblé. « On nous a fait à une idée neutre de l'amitié, comme pure affection sans conséquence. Mais toute affinité est affinité dans une commune vérité. » La recherche d'une commune vérité, soutenue par les liens affectifs entre les membres de cette communauté amicale, nous offre une nouvelle version du réel, choisie. Dans ce réel-là, l'injonction mortifère à "être réaliste" est combattue sans relâche.

Le travail d'Eva Barto et de Lola Gonzàlez nous pousse à penser que "le réel" de l'art, c'est ce que nous décidons de fabriquer ensemble. Il ne s'agit pas de se limiter au "réalisme", à ce qui est possible, à ce qui va "marcher" ou pas. C'est la force de ce que nous construisons collectivement qui rend l'impossible enfin atteignable.

IA

Eva Barto est née en 1987 à Nantes, elle vit à Paris. Diplômée des Beaux-Arts de Paris, elle a intégré le post-dipôme des Beaux-Arts de Lyon en 2013. Depuis 2011, ses oeuvres ont été montrées à Primo Piano, Paris, La BF15, Lyon, La Friche de la Belle de Mai, Marseille, W139, Amsterdam, Temporary Gallery, Cologne, et à la Fondation Ratti en Italie. Elle prendra part au Printemps de l'Art Contemporain à Marseille du 14 au 30 mai.

Lola Gonzàlez est née en 1988 à Angoulême, elle vit à Paris. Diplômée des Beaux-Arts de Lyon en 2012, elle a exposé au Centre Pompidou dans le cadre du Festival Hors-Pistes, au Salon de Montrouge, chez Treize, au CAC-La galerie de Noisy-le-sec, au Palais de Tokyo et au Magasin à Grenoble.
Une sélection de ses films seront montrés à La Villa Belleville le 12 avril et à Progress Gallery le 16 avril. En septembre 2015, elle participera à l'exposition Rendez-vous à l'IAC de Villeurbanne dans le cadre de la Biennale de Lyon.

Remerciements: François Orphelin, Yeelen Raynaud et Camila Renz