Rushes
Ian Kiaer, Charlotte Moth
11.06.2015 - 25.07.2015, vernissage 11.06.2015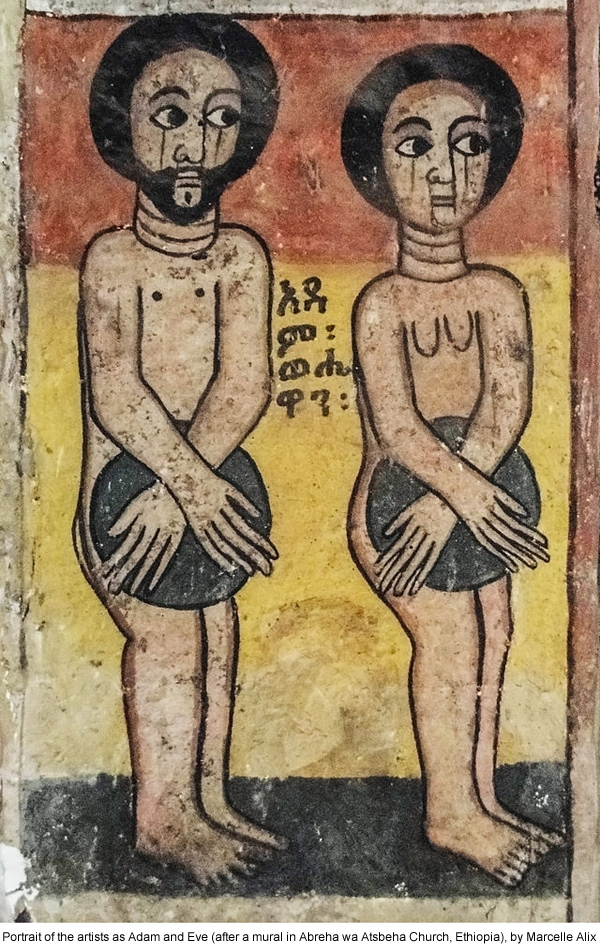 [plus bas en français]

We've always tried to imagine dialogues between the artists of the gallery. Charlotte Moth and Ian Kiaer have in common a taste for the patient and careful study of buildings, archives and daring artifacts, geared towards others, designed for men and women who love light and hard lines but still, balanced by organic manifestations of all kinds that have been considered from the outset of projects. They are both engaged in quiet and horizontal practices which fragment their pieces out of a taste for freedom, for research or for experimentations that are at work during the initial display and remain so through out the pieces' lives--be it subject to alterations or not.
CB:
Today, I think of Ian Kiaer and Charlotte Moth's work as that of two fervent admirers of artifice: they're small-scale mock-ups freaks. Would nature, from their point of view, be less valuable than a perfect fake? One has only to take a look at their works to find that, morphologically, they bear the scars of this artificiality. For me, they are the results of irreconcilable theories, of minimalist teratology or literary fantasies that are never a whole but a mere visible result. Not that of a mix, rather a kind of collage. It seems interesting today, while our knowledge of these practices has refined, to try to see them as creators of an art "against nature", empowered to rewrite an art history dotted with hybrid progenies, as "errors" a rational nature would hasten to make disappear. In other words, I think Ian and Charlotte have nothing of an Adam and an Eve. They are not interested in a lost unity but on the contrary, in the beautiful artificial air of objects which, probably, sport a slightly monstrous, sometimes twinned, often fragmented nature.

IA:
You're quite right in starting this exchange by addressing issues connected to artifice. In Filmic Sketches by Charlotte, potted plants and ceiling lamps, monoliths and lithographs, domesticated or wild nature, children's drawings and Modernist architecture are engaged in dialogues. I think that, rather than working through oppositions--even if art is indeed a matter of artifice--these artists are more thinking of a continuum between natural and artificial elements. I recall Ian's piece, a.r. petit théâtre, as he had first installed it at the Centre de l'art et du paysage in Vassivière. The artist had combined elements so that our gaze winded from the model of the dam (placed on the floor) to the small painting depicting nature (on the wall) to the window, created by Aldo Rossi in that room and through which one could see the actual dam along the lakeside landscape. In other words, I'm not sure we should continue to oppose nature and artifice; I rather have the strong impression that Ian and Charlotte alike are keen on adopting a "modest posture" through a practice of assembling elements they find or fabricate with the given of their direct visual environment (in the exhibition space). It remains collage from the point of view of art, as you were pointing out, but one that bonds extremely heterogeneous elements, ranging from painted tarpaulin to viewing-points on natural or architectural landscapes.

CB:
Ian and Charlotte's practices could be seen as rewriting systems (associated with a form of meditation) that use resources from "cultivated memory" to practical exercises--the study of volumes, colors, surfaces and interactions between what is already there in a given space and what is brought into that very space by the help of the senses. While artifice inevitably brings back the question of nature in the limelight (without excluding it--you're right), the overlapping of one art over another, practiced by both artists, reintroduces dispersion and doubt to the core of an art history that has been full of mastery or spiritual masters. In the works of Ian's like in those of Charlotte's, an aesthetic relief emerges, I find, drawn on the art of extracting a "sublimated" from seemingly incompatible materials to oppose through ingenuity and artificiality, synthesis and pleasure, the dissociation and dispersion that threaten all creation.

IA:
I'd like to bounce back on the topic of pleasure, because it seems to me that it is exactly what makes these pieces "effective", if you will. The pleasure of the eye, the sheer enjoyment of materials as light lays on them, the pleasure yet of assembly and linkage of elements whose ties gradually become obvious to the beholder... In order to assess her commitment to photography and draw a parallel with the quality of photographic paper, "sensitivity" has often been a descriptor of Charlotte's work. Stating such a thing is not saying much, and yet, it is what connects in the same movement the intelligent juxtaposition of images in Charlotte's film and the choice of materials that will work together in Ian's case.The "aesthetic relief" of which you speak, which I prosaically call "efficiency", can only be born out of a perfect knowledge of what an exhibition space is and the place usually bestowed to artworks in this particular space. At the same time, the doubt that you were evoking is not being evacuated. There are spectators for whom "it just doesn't work". These are not works that force their viewers to react or take a stand. You can miss a piece or even trample on it (quite unfortunately) but that's precisely what we're interested in, isn't it? This demand for attention. After 5 years in the gallery, I carry on thinking that the art that pleases me the most is not the one which can be embraced in one glance.

CB:
I want to conclude with some words borrowed from the play Repetition written by Pascal Rambert: "(...) what do we support? What do we need to adhere to in order to live? (...) what are we believing in today? If my generation has experienced the end of ideologies, what comes next? The end of utopia?" In response to this quote (and to answer your question in some way), I would like to claim my vision of art as the affirmation of a vulnerability which affects everything, every being, and to which, if one thinks about it, it is not possible to turn one's back against. This transmission is good, it makes one better.

Ian Kiaer was born in 1971 in London where he lives. His work was the object of solo exhibitions at The Henry Moore Institute, CIAP Vassivière, The Aspen Art Museum, The Querini Stampalia Foundation, Kunstverein Munich and Galleria d'Arte Moderna in Torino. It was also shown in MUDAM, Luxemburg (L'Image papillon, cur. Christophe Gallois), Biennale de Rennes (cur. Anne Bonnin), Tate Britain (contemporary collections), The British Art Show (cur. Lisa Le Feuvre) and The Hammer Museum. The independent exhibition space Lulu in Mexico City is showing his project Limp Oak until Aug. 2nd (cur. Chris Sharp). He is participating to the exhibitions: The Story of the Stone, A Tale of a Tub, Rotterdam, until 12.06 (cur. Suzanne Wallinga) and An Intervention, John Hansard Gallery, Southampton, until 27.06 (cur. Nadia Thondrayen).

Charlotte Moth was born in 1978 in Carshalton, United Kingdom. She's been living in Paris since 2007.The Serralves Foundation in Porto, Musée de Rochechouart and Centre d'Art contemporain de Genève have all organised solo exhibitions of her work. She recently participated to the collective exhibitions: Rideaux/ Blinds at IAC in Villeurbanne (cur. Marie de Brugerolle), Modest Muses at Tatra Museum (cur. Kasia Redzsiz) and The Promise at Arnolfini, Bristol (cur. Axel John Wieder). Her project Choreography of the Image is visible in the Archive Room of Tate Britain until May 2016. She is also showing a new installation at Kunsthalle Wien until 23.08 (Function follows vision, Vision follows reality, cur. Vanessa Joan Müller and Luca Lo Pinto). The Esker Foundation in Calgary is preparing an important exhibition of her work, opening in September, following a summer residence in Banff, Canada.

Special thanks: François Orphelin, Camille Tournay, Margaux Auria, Josselin Vidalenc and Camila Renz.

--

Nous avons toujours essayé d'imaginer les dialogues possibles entre les différents artistes de la galerie. Charlotte Moth et Ian Kiaer ont en commun ce goût pour l'étude, patiente et attentive, de bâtiments, d'archives et de créations audacieuses, tournées vers les autres, conçues pour des hommes et des femmes qui aiment la lumière et les lignes dures, mais toujours compensées par des manifestations organiques de toutes sortes, prises en compte dès l'origine des projets. Ce sont des pratiques calmes et horizontales qui fragmentent leurs oeuvres par goût de la liberté, de la recherche et de l'expérimentation toujours active, pendant l'accrochage et durant la vie de l'oeuvre, qu'elle soit soumise à des changements d'état ou pas.
CB:
Aujourd'hui, je pense au travail de Ian Kiaer et Charlotte Moth comme à celui de deux fervents admirateurs de l'artifice, des maniaques du simulacre à petite échelle. La nature, de leur point de vue, serait-elle moins précieuse qu'une contrefaçon idéale? Il n'y a qu'à se pencher sur leurs oeuvres pour constater qu'elles portent morphologiquement les stigmates de cette artificialité. Elles sont pour moi les résultats de théories inconciliables, de tératologie minimaliste ou encore de chimères littéraires qui ne sont jamais un tout mais le résultat visible, non d'un mélange, mais d'une espèce de collage. Il me semble intéressant aujourd'hui, tandis que notre connaissance de ces deux pratiques s'est affinée, de tenter de les regarder comme les créateurs d'un art "contre-nature", capables de réécrire une histoire de l'art parsemée de descendances hybrides, comme des erreurs qu'une nature avisée s'empresserait de faire disparaître. Pour le dire autrement, je crois que Ian et Charlotte n'ont rien d'un Adam et d'une Eve. Ce n'est pas l'unicité perdue qui les intéresse, mais ce bel air factice de l'objet doté d'une nature sans doute un peu monstrueuse, parfois jumelée, souvent morcelée.

IA:
C'est très juste de commencer cet échange par les questions liées à l'artifice. Dans le film de Charlotte que nous montrons, Filmic Sketches, se répondent plantes en pot et luminaires, monolithes et lithographies, nature domestiquée et sauvage, dessin d'enfant et architecture moderniste. Je crois que plutôt que de fonctionner par oppositions, et même si l'art est bien une question d'artifice, les artistes pensent plutôt ici à un continuum entre éléments naturels et artificiels. Je me souviens de l'installation de Ian, a.r. petit théâtre, telle qu'il l'avait créée pour le Centre d'art et du paysage de Vassivière. L'artiste avait combiné les éléments de telle façon à ce que notre regard circule de la maquette du barrage posée par terre à la petite peinture représentant la nature sur le mur, à la fenêtre créée par Aldo Rossi dans la salle à travers laquelle on pouvait effectivement voir le barrage et le paysage autour du lac. Autrement dit, je ne suis pas sûre qu'il faille continuer à vouloir opposer nature et artifice, j'ai plutôt la forte impression qu'il s'agit pour Ian comme pour Charlotte d'adopter une posture de modestie, à travers une pratique d'assemblage entre des éléments qu'ils récupèrent ou qu'ils fabriquent, et ceux que leur donne directement leur environnement visuel. Du point de vue de l'art, cela reste du collage, comme tu le soulignais, mais un collage avec des éléments extrêmement hétérogènes, qui vont de la bâche enduite de peinture au point de vue sur le paysage (naturel ou architectural).

CB : Les pratiques de Ian et Charlotte seraient des systèmes de réécriture, associés à une méditation qui a recours aux ressources de la mémoire cultivée et à des exercices pratiques, qui consistent à étudier les volumes, les couleurs, les surfaces et les interactions entre ce qui est déjà là, dans un espace donné, et ce qui est ramené dans ce même espace avec l'aide des sens. Comme l'artifice ramène forcément la question de la nature au centre des réflexions, sans l'exclure tu as raison, l'empiètement d'un art sur un autre, pratiqué par les deux artistes, réintroduit la dispersion et le doute, au cœur d'une histoire de l'art remplie de maîtrise et de maîtres spirituels. Dans les œuvres de Ian comme celles de Charlotte se dessine un soulagement esthétique je trouve, à partir de l'art d'extraire un « sublimé », issu de matériaux apparemment incompatibles, pour s'opposer par l'ingéniosité et l'artifice, la synthèse et le plaisir, à la dissociation et la dispersion qui menacent toute création.

IA : Je rebondis sur le plaisir, parce qu'il me semble que c'est exactement cela qui rend l'œuvre « efficace » si l'on peut dire. Le plaisir de l'œil, la jouissance du matériau, de la lumière posée sur lui, le plaisir encore de l'assemblage, de la mise en rapport des éléments dont le spectateur peut sentir la nécessité. Chez Charlotte, on a souvent parlé de « sensibilité » pour rappeler son attachement à la photographie et faire un parallèle avec l'impression du papier photo. Dire « sensibilité », c'est ne pas dire grand-chose, et en même temps, c'est ce qui regroupe d'un même mouvement l'intelligence de la juxtaposition des images dans le film de Charlotte et le choix des matériaux qui feront œuvre ensemble chez Ian. Le « soulagement esthétique » dont tu parles, et que je nomme prosaïquement « efficacité » ne peut naître que d'une connaissance parfaite de l'espace d'exposition et de la place que l'on réserve habituellement à l'œuvre d'art dans cet espace. En même temps, le doute que tu soulignes n'est pas évacué. Il y a des spectateurs pour qui « ça ne marche pas ». Ce ne sont pas des œuvres qui forcent la réaction d'un public, qui obligent à se positionner. On peut passer à côté, voire les piétiner (malheureusement) mais c'est évidemment ça qui nous intéresse, non ? Cette demande d'attention. Après 5 ans de galerie, je continue à penser que l'art qui me plaît le plus n'est pas celui qui se livre au premier coup d'œil.

CB:
J'ai envie de terminer par ces mots que j'emprunte à la pièce de théâtre Répétition de Pascal Rambert: «… À quoi adhérons-nous? à quoi avons-nous besoin d'adhérer pour vivre?… à quoi croyons-nous aujourd'hui? si ma génération a vécu la fin des idéologies qu'est-ce qui vient après? la fin de l'utopie? ». Je voudrais affirmer à la suite de ces mots ma vision de l'art (et répondre d'une certaine manière à ta question) comme l'affirmation d'une vulnérabilité, qui touche toute chose, tout être, et à laquelle, à y bien réfléchir, on ne peut tourner le dos. Et cette transmission fait du bien, elle rend meilleur.
Ian Kiaer est né en 1971 à Londres où il vit. Son travail a fait l'objet d'expositions personnelles au Henry Moore Institute, au CIAP Vassivière, à l'Aspen Art Museum, à la Fondation Querini Stampalia, au Kunstverein Munich et à la Galleria d'Arte Moderna de Turin. On a également pu voir ses oeuvres au MUDAM, Luxembourg (L'Image papillon, cur. Christophe Gallois), à la Biennale de Rennes (cur. Anne Bonnin), à la Tate Britain, au British Art Show (cur. Lisa Le Feuvre), ou au Hammer Museum. L'espace d'exposition indépendant Lulu à Mexico City lui consacre une exposition personnelle, Limp Oak, jusqu'au 2 août (cur. Chris Sharp). Il participe également aux expositions The Story of the Stone, A Tale of a Tub, Rotterdam, jusqu'au 12.06 (cur. Suzanne Wallinga) et An Intervention, John Hansard Gallery, Southampton, jusqu'au 27.06 (cur. Nadia Thondrayen).

Charlotte Moth est née en 1978 à Carshalton, Royaume-Uni. Elle vit à Paris depuis 2007. La Fondation Serralves à Porto, le Musée de Rochechouart et le Centre d'Art contemporain de Genève ont organisé des expositions solo de son travail. Elle a participé récemment aux expositions collectives Rideaux/ Blinds à l'IAC de Villeurbanne (cur. Marie de Brugerolle), Modest Muses au Tatra Museum (cur. Kasia Redzsiz) et The Promise à Arnolfini, Bristol (cur. Axel John Wieder). Son projet Choreography of the Image est visible dans l'Archive Room de la Tate Britain jusqu'en mai 2016. Elle montre également une nouvelle installation à la Kunsthallede Vienne jusqu'au 23.08 (Function follows vision, Vision follows reality, cur. Vanessa Joan Müller and Luca Lo Pinto). La Fondation Esker à Calgary prépare une importante expostion de ses oeuvres pour le mois de septembre, à la suite d'une résidence à Banff (Canada).
Remerciements: François Orphelin, Camille Tournay, Margaux Auria, Josselin Vidalenc et Camila Renz.