Chimen Chyen
Mathieu Kleyebe Abonnenc
17.09.2015 - 07.11.2015, vernissage 17.09.2015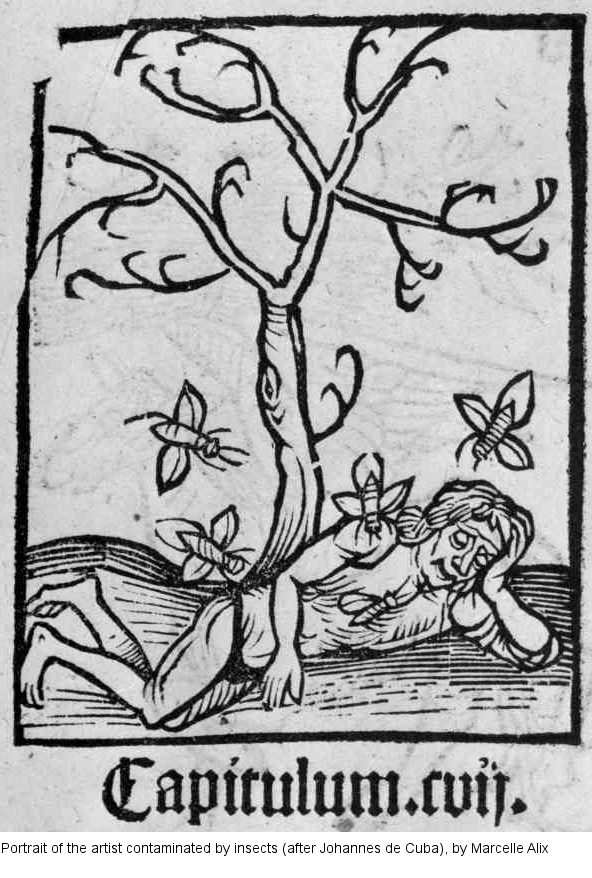 [plus bas en français]

"We're a few to consider creation, within our respective context, as the gradually perfectible result of several advances; not as the sudden fruit of a beautiful and secret detour. All of us take detours." Edouard Glissant, The Caribbean Discourse

We all take detours. As a matter of fact, this even is one of the goals Cecilia and I had set when we opened the gallery: seeking to operate through capillary action or by digression; prepared to let our desires get the best of us. The title Mathieu K. Abonnenc suggested for his second exhibition at Marcelle Alix therefore seemed ideal to me: instead of connecting two points via the most direct route, the Creole "chimen chyen" is a byway. It alludes to the fashion in which dogs move about through space, to the way they zigzag from one smell to another or change direction as soon as they're arraigned by new sounds: a course that may lead them to take narrow or perilous paths. Regardless of speed or efficiency, following a "chimen chyen" enhances the journey in recognition that the destination may change along the way. We share this alternate course with artists.
And indeed, Mathieu K. Abonnenc's work can be seen as a subtle art of taking detours. For several years now, he has invited us to partake in the material he unearths from his family archives, relating images of objects his grandfather—a military nurse and entomologist—gathered in Africa to the Brief Set of Instructions for Collecting Ethnographic Objects published by Musée de l'Homme on the occasion of its 1931 Dakar-Djibouti ethnographic expedition.
The artist's fictional work then puts the autobiographical part of this research into a broader perspective in narratives he overlays on one another. Take Betty for instance: the main character in the film Secteur IX B (2015) is an anthropologist whose studies combine items pertaining to Mathieu's grandfather's life with Michel Leiris's account of his African sojourn during the Dakar-Djibouti mission (in L'Afrique fantôme, 1934). Betty's interest for insects (and the medications she ingests throughout the film to protect herself from them) recalls the ambiguous relation scientists entertain with their field of study: Emile Abonnenc had described a species of mosquito that his colleagues named Abonnenci Phlebotomus after him. Secteur IX B questions the classification standards still currently used by Natural History and Anthropological museums to bring "The Other" (the native, the animal, the plant) closer to researcher's experience so that it can be dissected until fully understood, until it is rendered transparent. Indeed, to sort, name and study are processes that relate closely to the colonial denial of The Other's integrity: denying its "right to opacity", it makes it an object of study and so as to better exhibit them, dissociates objects from their original context.

"But does not the world, in its exploded oneness, demand that each person be drawn to the recognized opacity of the other?" Edouard Glissant, op. cit.

The detours Abonnenc takes can also be embodied in individual stories—the threads of those sometimes getting lost (precisely because the artist cherishes their "right to opacity"), but which always corroborate elements of a comprehensive search. In the gallery's ground floor, the items on display originally belonged to Joseph Bernes, the former owner of Mathieu's mother's house in Wacapou—a village on the banks of the Maroni River in French Guiana. Images of the house or of the surrounding forest and river are recurrent motifs in the artist's early works. In this case, they're implicitly portrayed through the objects connected with Bernes' story: a native of St. Lucia, the man had supposedly moved to Guiana in the late 30s to try his luck as a gold-digger. Beyond the anecdotal personal story, this account reflects on the overlapping processes of time and history and the work's core is to be found in the gaps between objects; in the tenuous links they entertain with other exhibited pieces; in the way the colonial past haunts everyone's present and—precisely, in the way it just does not pass.
Panning for gold, in the region known as the Upper Maroni, was an activity that was primarily operated by Creoles coming from the Caribbean to take up an area they had to share with the Maroons and Amerindians. The disappearance of the Wacapou house (destroyed in a few years by the rain-forest's progresses) gives the artist an opportunity to relate the story of his family to that of the river which still forms the natural border between Guiana (an overseas department and Region of France) and Suriname (a free state, formerly Dutch Guiana) and which happens to be disputed by the descendants of the Maroons' nations. It thus recalls the queer peculiarity of the French State as the only European country to retain American borders.

Just like Marguerite Duras in The Sea Wall, Abonnenc negotiates with the colonial history that inextricably blends with his family's history and reflects on the necessarily resulting cultural mix. In her book Duras la métisse, Catherine Bouthors-Paillart suggests that the author's style (marked by a simplicity of syntax and the absence of verbs) is cross-bred with the Vietnamese language she spoke throughout her childhood and adolescence.
One can thus read Duras texts—and the works of Abonnenc—as Métis speech. Like Duras, Abonnenc is not working "on" the colonial past; he's neither a historian nor a teacher but attempts to create a language that's apt to express what History and the written standards of the metropolis have put aside: a taste for detours, a right to opacity and an ambivalent relationship to a landscape that's haunted by violence and that one seeks to alleviate.

IA

Mathieu Kleyebe Abonnenc was born in 1977, he lives in Metz. He has had personal exhibitions at Kunsthalle Basel and Bielefelder Kunstverein in 2013 and at the Serralves Foundation, Porto, in 2012. He participated to the 8th Berlin Biennale (2014), to the Triennale, Paris (2012) and to Manifesta 8 (2010). His work is currently shown at the occasion of the exhibition Leiris and co at Centre Pompidou Metz, at the Venice Biennale (international exhibition and Belgian pavilion) and at the Kiev Biennale. His film Secteur IX B (redshoes production) is selected by the TIFF festival, Toronto and was screened at Tate Modern in July. Mathieu K. Abonnenc received the Bâloise Art Prize at Art Basel 2015, thanks to which the Museum für Moderne Kunst (MMK) in Frankfurt will organize a solo exhibition of his work in 2016. The Pompidou in Paris is devoting a Prospectif Cinéma screening to the artist on Sept 24, 2015.

Special thanks: François Orphelin, Baptiste Pinteaux, Camila Renz, Maëlle Dault, Le Plateau-FRAC Ile de France, Service du Patrimoine de la ville de Saint-Laurent du Maroni, Marie Bourdeau, Denis Roche, Pierre Michelon, Mirto Linguet, Betty Tchomanga, Rachel Khan, Eriq Ebouaney, Hugo Jeuffrault, Victor Zébo, Arno Ledoux, Vincent Tricon, Olga Rozenblum and PAL.
--
« Nous sommes quelques-uns qui considérons la création, dans notre contexte, comme la résultante au fur et à mesure perfectible de plusieurs avancées, non comme le fruit soudain d'un beau et secret détour. Nous pratiquons tous le détour » Edouard Glissant, Le discours antillais

Nous pratiquons tous le détour. C'est même l'une des ambitions que nous avions affichées, Cécilia et moi, lors de l'ouverture de la galerie. Fonctionner par capillarité, voire par digression, nous laisser porter par nos envies. Le titre que nous propose Mathieu K. Abonnenc pour sa seconde exposition à la galerie m'a semblé idéal. Ce « chimen chyen » créole est un chemin de traverse qui ne permet pas de relier le plus rapidement un point à un autre, l'expression évoque plutôt la façon qu'ont les chiens de parcourir un espace en zigzaguant d'une odeur à une autre, en changeant de direction dès qu'ils sont interpelés par un son, ce qui les amène à emprunter des chemins étroits et périlleux. Suivre un « chimen chyen » c'est enrichir le parcours sans se soucier de rapidité ou d'efficacité. Reconnaître aussi que le but du chemin change peut-être en cours de route. Un itinéraire bis que nous partageons avec les artistes.
On peut lire le travail de Mathieu K. Abonnenc comme un art subtil du détour. Depuis plusieurs années, il nous convie à partager les découvertes qu'il fait dans ses archives familiales, rapprochant les images des objets collectés en Afrique par son grand-père infirmier militaire et entomologiste des Instructions sommaires pour collecteurs d'objets ethnographiques publiées par le Musée de l'Homme pour accompagner la mission Dakar-Djibouti.
Le travail de fiction de l'artiste place la part autobiographique de sa recherche dans une perspective plus large, au sein d'un récit qui se superpose à d'autres. Ainsi Betty, le personnage principal du film Secteur IX B (2015), est une anthropologue dont la recherche croise à la fois les éléments liés à la vie du grand-père de Mathieu et le récit du séjour de Michel Leiris en Afrique pour la mission Dakar-Djibouti, tel qu'il le relate dans L'Afrique fantôme (1934). L'intérêt de Betty pour les insectes—et les médicaments qu'elle ingère tout au long du film pour s'en protéger—rappelle le rapport pour le moins ambigu que les chercheurs entretiennent avec l'objet de leur étude. Emile Abonnenc avait décrit une espèce de moustique que ses collègues nommèrent après lui, le phlebotomus abonnenci. Secteur IX B interroge les normes de classification toujours d'usage dans les musées anthropologiques et d'histoire naturelle pour rapprocher l'Autre (l'indigène, comme l'animal ou le végétal) de l'expérience du chercheur, pour qu'il puisse le disséquer jusqu'à le comprendre entièrement, le rendre transparent. Classer, nommer, étudier, sont aussi des processus liés à la colonisation : refuser à l'Autre son intégrité, l'assimiler, en faire un objet d'étude afin de nier son « droit à l'opacité ». Dissocier les objets de leur contexte initial pour les exposer.

« Mais le monde, dans son unité éclatée, ne requiert-il pas que chacun s'efforce vers l'opacité reconnue de l'autre ? » Edouard Glissant, op. cit.

Le détour que pratique Abonnenc est aussi celui qui s'incarne dans des récits particuliers, dont on perd parfois le fil (parce que l'artiste chérit justement le droit à l'opacité de ces récits), mais qui recoupent toujours les éléments d'une recherche globale. Au rez-de-chaussée de la galerie, il nous présente des objets ayant appartenu à Joseph Bernes, ancien propriétaire de la maison de sa mère dans le village de Wacapou, sur les rives du fleuve Maroni en Guyane. L'image de cette maison, la forêt qui l'entoure, le fleuve, sont des motifs que l'on retrouve dans les premières œuvres de l'artiste. Ils apparaissent ici en creux, à travers les objets liés à l'histoire de Bernes : originaire de Sainte-Lucie, l'homme aurait déménagé en Guyane pour devenir orpailleur à la fin des années 30.
Au-delà de l'anecdote, de l'histoire personnelle, le récit témoigne des recouvrements auxquels procèdent le temps et l'histoire. C'est entre les objets, dans les liens ténus qu'ils entretiennent avec le reste des œuvres que se trouve enfoui le cœur du travail : cette façon dont le passé colonial hante le présent de tout-e-s, cette façon qu'il a de ne pas passer justement.
L'orpaillage dans ce qu'on nomme le Haut-Maroni était pratiqué avant tout par les Créoles venus de la Caraïbe, un espace qu'ils partageaient avec les Noirs Marrons et les Amérindiens. La disparition de la maison de Wacapou (détruite en quelques années par l'avancée de la forêt) donne l'occasion à l'artiste de relier l'histoire de sa famille à celle du fleuve qui constitue toujours une frontière naturelle entre la Guyane (département français d'outre-mer) et le Surinam (Etat libre et ancienne Guyane néerlandaise), frontière contestée par les nations descendantes des Noirs Marrons. Il rappelle ainsi cette étrange particularité de l'Etat français, seul pays européen à posséder des frontières en Amérique.

A l'image de Marguerite Duras dans Le barrage contre le Pacifique, Abonnenc négocie avec ce passé colonial inextricablement lié à l'histoire familiale et témoigne du métissage culturel qui en résulte forcément. Dans son ouvrage Duras la métisse, Catherine Bouthors-Paillart émet l'hypothèse que le style de l'auteure (marqué par la simplicité de la syntaxe, l'absence de verbes) est mâtiné de langue vietnamienne qu'elle a parlée pendant toute son enfance et son adolescence.
On peut ainsi lire les textes de Duras—et les œuvres d'Abonnenc—comme des discours métis. Abonnenc, comme Duras, ne travaille pas « sur » le passé colonial, il ne fait pas œuvre d'historien ou de pédagogue mais tente de créer un langage propre à exprimer ce que l'Histoire et les normes écrites par la métropole ont mis de côté : le goût des détours, le droit à l'opacité, la relation ambiguë à un paysage hanté par la violence que l'on cherche à adoucir.

IA

Mathieu Kleyebe Abonnenc est né en 1977, il vit à Metz. Son travail a fait l'objet d'expositions personnelles à la Kunsthalle de Bâle et au Bielefelder Kunstverein en 2013, ainsi qu'à la Fondation Serralves en 2012. Il a participé notamment à la 8ème Biennale de Berlin (2014), à la Triennale, Paris (2012) et à Manifesta 8 (2010). Son travail est exposé en ce moment à l'occasion de l'exposition Leiris and co au Centre Pompidou Metz, à la Biennale de Venise (exposition internationale et pavillon belge) et à la Biennale de Kiev. Le film Secteur IX B (production redshoes) est sélectionné pour le TIFF festival, Toronto et a été montré à la Tate Modern en juillet. Mathieu K. Abonnenc est lauréat de la Bâloise Art Prize (Art Basel 2015) et bénéficiera dans ce cadre d'une exposition personnelle au Museum für Moderne Kunst (MMK) de Francfort en 2016. Le Centre Pompidou, Paris lui consacrera une séance Prospectif Cinéma le 24 septembre 2015.

Remerciements : François Orphelin, Baptiste Pinteaux, Camila Renz, Maëlle Dault, Le Plateau-FRAC Ile de France, Service du Patrimoine de la ville de Saint-Laurent du Maroni, Marie Bourdeau, Denis Roche, Pierre Michelon, Mirto Linguet, Betty Tchomanga, Rachel Khan, Eriq Ebouaney, Hugo Jeuffrault, Victor Zébo, Arno Ledoux, Vincent Tricon, Olga Rozenblum et PAL.