crepuscoli spiangenti
Ernesto Sartori
07.02.2019 - 30.03.2019, vernissage 07.02.2019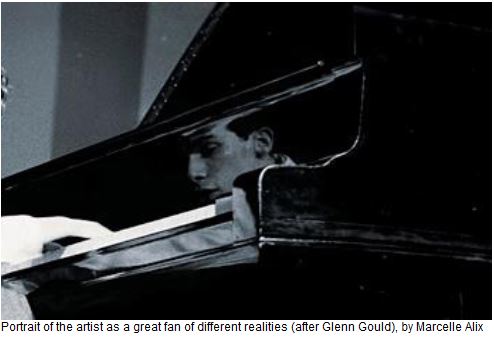 [plus bas en français]

Amongst all the artists represented by us, Ernesto Sartori is perhaps the one whose advancement we have followed most closely, ever since his years of study at the school of Fine Arts in Nantes. He is also the artist who has surprised us the most, conducting these sculpture experiments with a paint brush in hand to revisit form differently — certainly in a more fluid way. During his first exhibition nine years ago, we let him fill up the gallery space with very large volumes, which he enjoyed climbing onto in order to hang paintings and drawings at unexpected heights. At that time, he intended to settle under these very volumes to sleep and continue adding several touches on paintings we believed had been completed.

In retrospect, we understand that his three-dimensional experimentations had been produced for the purpose of his painting. Similarly to Uccello, who would build wooden horses to get a better picture of the physical reality of the Battle of San Romano, one could approach Ernesto Sartori's installations as life-size experiments for pictorial compositions that go beyond the model since they do not disappear to give way to painting. Accompanied by Ernesto, we had until now imagined that the paintings moved the sculptures in different spaces and contexts, which were most often imaginary. The science-fiction narrative has always been for him a model for understanding art and the necessity to question simultaneously various realities and thus various media. Ten years later, this interpretation is refuted by the greater autonomy of his painting. The latter has thickened while the volumes are no longer raised as high above the ground, preferring instead to spread as ''fragments'' that are smaller, consisting of pieces of fabric, of recognisable objects, of supplies, and bits of materials. These installations appear to serve painting, as palettes available to the subtle colourist that he is. It is wonderful to observe what could be called the freedom of the painter: a way of exhibiting his work without expecting any form of museumification of his tools (here, they are tool-artworks) materialising all that comes before and the origins of what we are looking at.

Ernesto regularly revisits classic themes, such as still life or landscape painting, without separating them. We rediscover everyday objects under the open sky. All the earth has to do is absorb them, but it will likely take longer than the very life of the painting. His paintings and installations are archeological events, situations that are closer to life — and to its broken springs — than to an ideal image. The painting is not merely a lie. It also has the frankness of not suspending time or entangling it. Ernesto's painting shows us objects that the earth can spit out at any time, solitary things that have nothing to do with the shiny fruits of ancient myths. These objects do not flatter anything, they are in the way. And yet, Ernesto makes them funny and touching like the Harlequin costume. He organises and creates colour gradients in his installations, he dissolves objects within his paintings, like this piano that is invisible when looking at it closely and yet well present — a sheet of paper placed on its lid and about to fall on the floor. As we stare — in a blurry state of mind — at the things that are before us, it is sometimes possible to see particles, a light rain shower beating down, in an unreal way, on what surrounds us. Painting is thus something that is both dead and alive, which tenses up our eyes, makes our vision more powerful, whilst participating in the fall and the birth of worlds.

We are not simply eager to understand what is going on in the head of this painter, who cannot be categorised. We are in the work, in the pieces, because they brilliantly represent us. These kinds of metaphysical discharges that Ernesto sends to our bodies and to our minds are as important as a recovered skyline.

MA

(translation : Callisto McNulty)

Ernesto Sartori was born in 1982 in Vicenza (Italy). For the past three years he develops his studio work in Brussels. His paintings and installations were recently displayed at The Community, Paris, at CIAP Vassivière, at the Académie des Beaux-Arts in Brussels, at Pavillon Blanc, Colomiers and at l'Espace Madeleine Lambert de Vénissieux. He produced a large installation for Passerelle art center in Brest the same year (cur. Etienne Bernard and Antoine Marchand). His work was presented at FIAC (Jardins des Tuileries) and at the occasion of Sèvres Outdoors (Cité de la céramique de Sèvres). He also took part in the outdoor program of the Parc Saint-Léger art center (cur. Franck Balland).
__

De tous les artistes que nous représentons, Ernesto Sartori est peut-être celui dont nous avons le mieux suivi l'évolution, jusqu'à être au plus près de ses années de formation aux Beaux-Arts de Nantes. Il est aussi l'artiste qui nous aura le plus surprises, conduisant ces expériences de sculpteur le pinceau à la main pour revisiter la forme d'une autre manière, avec plus de fluidité sans doute. Lors de sa première exposition il y a neuf ans, nous l'avons laissé remplir l'espace de la galerie avec de très grands volumes, qu'il s'amusait à escalader pour accrocher des peintures et dessins à des hauteurs inattendues. Il comptait à ce moment-là s'installer sous ces mêmes volumes pour y dormir et continuait d'ajouter quelques touches aux peintures qu'on avait cru terminées.

On comprend rétrospectivement que ses expérimentations en volume ont été fabriquées pour les besoins de sa peinture. A la manière d'Uccello qui construisait des chevaux en bois pour mieux se représenter la réalité physique de la Bataille de San Romano, on pourrait voir ses installations comme des essais à échelle humaine de compositions picturales qui vont au-delà de la maquette car elles ne disparaissent pas au profit de la peinture. Nous avions imaginé jusqu'à présent, aidées par Ernesto, que les peintures déplaçaient les sculptures dans différents espaces et contextes, le plus souvent imaginaires. Le récit de science-fiction a toujours été pour lui un modèle de compréhension de l'art et de la nécessité d'interroger plusieurs réalités et donc plusieurs médiums en même temps.
Dix ans après, cette interprétation est contredite par une plus grande autonomie de la peinture. Cette dernière s'est épaissie tandis que les volumes ne s'élèvent plus autant du sol et préfèrent s'étaler en « morceaux » plus petits, composés de textiles, d'objets reconnaissables, de fournitures et bouts de matière. Ces installations semblent au service de la peinture, telles des palettes disponibles pour le coloriste subtil qu'il est. Il est beau d'observer ce qu'on pourrait appeler la liberté du peintre : une manière d'exposer son travail sans attendre une quelconque muséification de ses outils (ici, il s'agit d'œuvres-outils) matérialisant tout ce qui vient avant et d'où vient ce que l'on regarde.

Ernesto revisite régulièrement des thèmes classiques, comme celui de la nature-morte ou du paysage, sans les séparer. C'est à ciel ouvert que nous redécouvrons des objets quotidiens. La terre n'a plus qu'à les absorber, mais cela prendra sans doute plus de temps que la vie même de la peinture. Ses peintures et ses installations sont des évènements archéologiques, des situations plus proches de la vie - et de ses ressorts cassés - que d'une image idéale. La peinture n'est pas juste un mensonge. Elle a aussi la franchise de ne pas suspendre le temps ou de l'emmêler. La peinture d'Ernesto nous montre des objets que la terre peut recracher à tout moment, des choses solitaires qui n'ont rien à voir avec les fruits polis des mythes anciens. Ces objets ne flattent rien, ils encombrent. Pourtant, Ernesto les rend drôles et touchants comme le costume d'Arlequin. Il organise et crée des dégradés de couleurs dans ses installations, dissout les objets dans ses peintures, comme ce piano invisible de près et pourtant bien là, une feuille placée sur son couvercle prête à glisser à terre. Alors que nous fixons, l'esprit vague, les choses devant nous, il est parfois possible de voir comme des particules, pluie fine battant de façon irréelle ce qui nous entoure. La peinture est ainsi : chose morte et chose vivante qui crispe nos yeux, rend plus puissante notre vision, tout en participant au déclin et à la naissance des mondes.

Nous ne sommes pas juste désireux·reuses de comprendre ce qu'il y a dans la tête de ce peintre inclassable. Nous sommes dans le travail, dans les œuvres, parce qu'elles nous représentent brillamment. Ces sortes de décharges métaphysiques qu'Ernesto adresse à nos corps et nos esprits sont aussi importantes qu'une ligne d'horizon retrouvée.

MA

Ernesto Sartori est né en 1982 à Vicenza (Italie). Depuis plus de trois ans, c'est à Bruxelles que se développe son travail en atelier. Ses peintures et installations ont récemment été montrées à The Community, Paris, au Centre international d'art et du paysage, Vassivière, à l'Académie des Beaux-Arts de Bruxelles, au Pavillon Blanc, Colomiers, à l'Espace Madeleine Lambert de Vénissieux, au Centre d'art Passerelle à Brest (cur. Etienne Bernard and Antoine Marchand), ainsi qu'en extérieur, dans les Jardins des Tuileries à l'occasion de la FIAC, mais aussi dans les jardins de la Cité de la céramique de Sèvres. Un ensemble marquant d'oeuvres ont été conçues et exposées dans le cadre de la programmation hors-les-murs du Parc Saint-Léger, Pougues-les-Eaux (cur. Franck Balland).