Orbs and eclipses
Mira Schor
08.09.2022 - 27.10.2022, vernissage 08.09.2022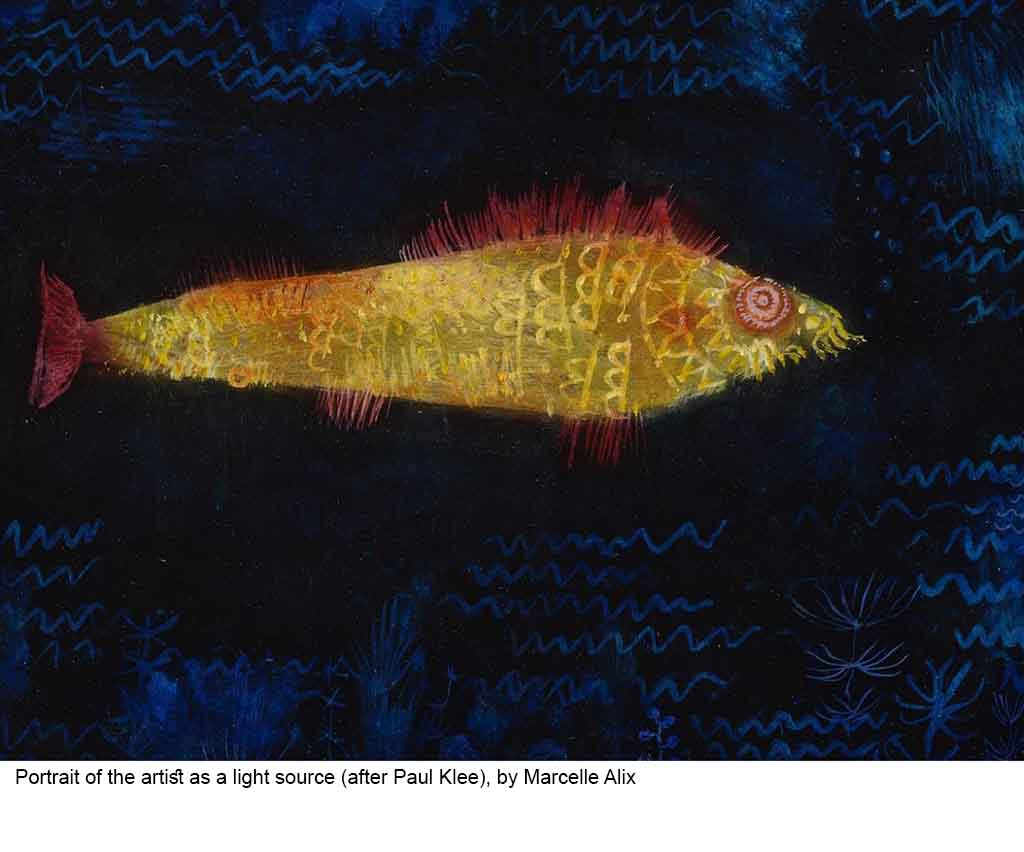 en français plus bas

Sat., September 10, 5pm: Salon de Marcelle Alix #9, Mira Schor in conversation with the author and curator Geraldine Gourbe
Sun., September 11, 2-7pm: the show will be exceptionally open at the occasion of Belleville Weekend

So softly evening blends with night,
You scarce can say when day is done.
Emily Brontë
The "return of painting" in France, predicted a few years ago as a radical shift of paradigm, amounts in the end to one and the same observation: this medium has always been the guiding principle of the art market (and if art in France considered itself immune to taking this into account, this would reflect a form of provincialism that is on the verge of disappearing). To write about "painting" is also to make it seem like every painting is a product for the market and that all paintings are equal. This is reminiscent of those sometimes awkward conversations during which people outside the art world ask you to justify the existence of contemporary artworks that they have experienced (often unsatisfactorily). You are then meant to be the champion of art without distinguishing between good and bad works, major and minor practices with regard to art histories, and to speak of "painting" as something immutable because it has been produced by human societies "since time immemorial", embracing, in a single movement, both parietal art and works using digital tools.
To show and to promote Mira Schor's paintings is not a trivial matter in this context: her work has demonstrated, for 50 years, an exemplary continuity of perspective in favor of feminist painting, which is in permanent discussion with the stakes of art histories as well as those of the art market.

IA: The most recent paintings that Mira Schor has chosen to present for her first solo show at the gallery convey, in my opinion, the great eloquence of her work: the eclipses of different colours have the expressive warmth of the series of paintings Language as Image (1990-2005), some of which we have shown before (1), while the paintings Trauma 9 (2022) and I Need a Reason to Live (2021) offer an existentialist continuity to the use of language in her practice. If language has been present in her work since the 1970s, particularly through the series Book of Pages (1976-1978), Language as image (1990-2005) and Avatar Paintings (2009-2014), it now reflects the desire to make oneself heard following the repeated lock-downs that have terribly isolated the generation to which Mira belongs and, more broadly, to speak out in a time of growing threats of authoritarianism and fascism in the United States and around the world.
Her desire to wield language as a painter was accompanied by the creation in 1986 of the magazine M/E/A/N/I/N/G, co-founded with the painter, editor and book artist Susan Bee. This foray into publishing and art criticism (2) enabled Mira Schor to publish numerous texts elaborating her positions in favour of a "modest painting" both in terms of the canvas size and the ambition to remain on the side of the medium, its sensuality and the political considerations it may contain, without ever falling into the illustration of the latter. What she was outlining was not a program to build a career, but a way of inventing an ethics for her life as an artist. This is, I believe, what the artists we represent have in common.
CB: You are right Isabelle, Mira joins our program through her freely expressed political commitment and visual qualities which make me want to be intensely irradiated by her use of colours (these qualities remind me of Emily Brontë's subtle quote), her ability to express pauses (with punctuation to organise not the written word but images) in the face of the hyper-acceleration of information preventing the assimilation of major changes in private and social life. Her relationship with time says everything about the devastations of a world that pushes us to let go of our passions in the form of consumption. A meaningless transgression certainly, which is the exact opposite of Mira Schor's life and work in front of which we find meaning again, with the same strength which emerged from the night in cave paintings – that is a relationship to the world nourished by burning and invaluable questions. This is Mira Schor's strength: to create a temporal distance that equally places us within the linear time of politics and outside of it, in the time of strong minds whose traces carry with them problems and beauty, as in poetry.
Far from the existential nausea that convinces us we do not fit in this world, Mira Schor's hypersensitivity, her family history emblematic of the traumatic journey of European Jews in the 20th century and the feminist programme of Miriam Schapiro and Judy Chicago at CalArts led her, in the early 1970s, to embody a form of feminist eroticism through which sexuality and intellectual activity weren't in conflict. The Californian landscapes paintings (3) resulting from this, reflect a powerful defence of freedom and of a social order to be transgressed. They also reveal a sharp perspective on the role of women in the art world and a gifted painter. This series of paintings portrays a liberation of passions, the satisfaction of unconditioned desire, its optimistic deployment, as well as a form of jouissance that is neither denied or imposed. In Mira Schor's work, body parts and particularly her own act as "shelters" to host — without hiding —, a thought in action that fears neither independence nor debate (which she vigorously calls for), and, even less so, the "visual pleasure" claimed from work to work. These words painted directly on canvas turn language into an image. A painting with image and sound. With Mira Schor, pleasure is not an internalized drama that burdens existence, it is narrated through painting to reduce its affects and trauma. This constant designation of pleasure increases the time of desires, releases the flow of emotions and imagination. If the law, the authority and the patriarchal order will always attract passions (and vice versa) like daily eclipses, Mira Schor's paintings will always be on the side of light.
(1) "dans la tiédeur de la nuit", exhibition, 12.12.20-20.03.21, with Michael Dean and Tirdad Hashemi
(2) M/E/A/N/I/N/G was published twice a year until 1996 and was a forum for numerous artists (Marcia Hafif, Nancy Spero, Pamela Wye), critics and art historians (Amelia Jones, Robert Storr, Johanna Drucker). An anthology of its texts was published in 2000 by Duke University Press, and the magazine had a sporadic online existence through December 2016, when its final online issue completed a 30-year adventure in publishing. Mira Schor's texts published in the journal were reproduced in the anthology Wet: on Painting, Feminism and Art Culture (Duke University Press, 1997), which has become a classic in feminist art studies. In 2010, she published a new collection of texts entitled A Decade of Negative Thinking.
(3) Story paintings series, represented in the exhibition by Interior with the Moon, 1971
translation: Callisto McNulty

Born in 1950, Mira Schor is a New York-based painter and writer. Schor received her MFA in painting from CalArts in 1973. Schor's work has been included in exhibitions at June (2021), Kunsthaus Graz (2020), Kestner Gesellschaft (2019), The Jewish Museum (2010), Hammer Museum (1996) and P.S.1 (1992). She is the recipient of awards in painting from the Guggenheim, Rockefeller Foundation, Marie Walsh Sharpe, Pollock-Krasner Foundation and of the College Art Association's Frank Jewett Mather Award in Art Criticism. She is the recipient of the 2019 Women's Caucus for Art Lifetime Achievement Award for her work as a feminist painter, art historian and critic. She is represented by Lyles & King Gallery in New York City.
Warmest thanks to: Isaac Lyles, Geena Brown, Allyson Pinon (Lyles and King, New York), Louis Chaumier, Géraldine Gourbe, Romain Grateau, Virginia Quadjovie, Josselin Vidalenc
--
samedi 10 septembre, 17h: Salon de Marcelle Alix #9 discussion entre Mira Schor et l'autrice et commissaire d'exposition Géraldine Gourbe
dimanche 11 septembre 2022, 14h-19h: ouverture exceptionnelle dans le cadre de Belleville Weekend
Si doucement le soir se fond dans la nuit
Qu'on peut à peine dire le jour fini.
Emily Brontë
"Le retour de la peinture" en France, pronostiqué il y a quelques années comme un changement de paradigme radical, revient finalement à faire un seul et même constat : ce médium est depuis toujours la valeur cardinale du marché de l'art (et si l'art en France pouvait se penser exempt de le prendre en compte, cela témoigne d'une forme de provincialisme en passe de disparition). Écrire "la peinture" c'est aussi faire croire que toute peinture est produit de marché, que toute peinture se vaut. Cela rappelle ces conversations parfois gênantes au cours desquelles des personnes extérieures au milieu de l'art vous somment de justifier l'existence d'œuvres d'art contemporain dont elles ont fait l'expérience (souvent insatisfaisante). Il faudrait alors se faire le chantre de l'art sans distinguer bonnes et mauvaises œuvres, pratiques incontournables et mineures en regard des histoires de l'art et parler de "la peinture" comme d'une chose immuable parce que produite par les sociétés humaines "de tous temps", en embrassant d'un seul mouvement l'art pariétal jusqu'aux œuvres empruntant les outils numériques.
Montrer et défendre la peinture de Mira Schor n'est pas quelque chose d'insignifiant dans ce contexte : son travail fait preuve, depuis 50 ans, d'une continuité de point de vue exemplaire en faveur d'une peinture féministe en discussion permanente avec les enjeux des histoires de l'art comme ceux du marché.

IA: Les peintures les plus récentes que Mira Schor a choisies de présenter pour sa première exposition personnelle à la galerie témoignent à mon sens de la grande éloquence de son œuvre : les éclipses de différentes couleurs ont la chaleur expressive de la série language as image (1990-2005), dont nous avions montré quelques toiles précédemment (1), tandis que les peintures trauma 9 (2022) et I need a reason to live (2021) offrent une continuité existentialiste à l'usage du langage dans sa pratique. Si le langage a été présent dans son œuvre depuis les années 70, notamment à travers les séries Book of Pages (1976-1978), Language as image (1990-2005) et Avatar Paintings (2009-2014), son utilisation reflète aujourd'hui la volonté de se faire entendre au sortir des confinements successifs qui ont terriblement isolé la génération à laquelle Mira appartient. De façon plus large, il s'agit aussi pour elle de prendre la parole publiquement à un moment où, aux Etats-Unis comme dans le monde, les tentations autoritaires et fascistes se multiplient.
Cette volonté de manier le langage en tant que peintre a accompagné la création en 1986 du magazine M/E/A/N/I/N/G, fondé avec la peintre, éditrice et artiste du livre Susan Bee. Une incursion dans l'édition et la critique d'art (2) qui a permis à Mira Schor de publier de nombreux textes précisant ses positions en faveur d'une "peinture modeste" tant par la taille des toiles que par l'ambition de rester du côté du médium, de sa sensualité et des enjeux politiques qu'il peut contenir, sans jamais verser dans l'illustration de ces derniers. Ce qu'elle dessinait à cet endroit n'était pas un programme pour faire carrière, mais une façon d'inventer une éthique pour sa vie d'artiste. C'est, je crois, ce que les artistes que nous représentons ont en commun.

CB: Tu as raison Isabelle, Mira s'associe à notre programme par son engagement politique librement exprimé et des qualités plastiques qui me donnent envie d'être intensément irradiée par son utilisation des couleurs (ces qualités me rappellent la subtile citation d'Emily Brontë), sa capacité à exprimer des pauses (avec de la ponctuation pour organiser, non pas de l'écrit, mais des images) face à l'hyper-accélération de l'information empêchant la digestion d'importantes transformations dans la vie intime et sociale. Son rapport au temps dit tout des ravages d'un monde qui nous pousse à lâcher la bride à nos passions sous forme de consommation. Une transgression vide de sens bien sûr, soit tout le contraire de la vie et de l'œuvre de Mira Schor devant laquelle on retrouve du sens, avec la même force que ce qui, dans la peinture rupestre, surgissait de la nuit, un rapport au monde nourri de questions brûlantes et incommensurables. C'est la force de Mira Schor : créer une distance temporelle qui nous met autant dans le temps linéaire du politique qu'au dehors de lui, dans le temps des esprits forts dont les traces drainent comme en poésie des problèmes et de la beauté.
Loin d'un écœurement existentiel qui convainc de ne pas avoir sa place dans ce monde, l'hypersensibilité de Mira Schor, son histoire familiale emblématique du parcours traumatique des Juifs d'Europe au 20e siècle et le programme féministe de Miriam Schapiro et Judy Chicago à CalArts la conduisent au début des années 70 à incarner une forme d'érotisme féministe à travers lequel sexualité et activité intellectuelle ne s'opposent pas. Les peintures de paysages californiens (3) qui en résultent révèlent une puissante défense de la liberté et d'un ordre social à transgresser. Elles révèlent aussi un point de vue aiguisé sur le rôle des femmes dans le monde de l'art et une artiste douée pour la peinture. Cette série de peintures narre une libération des passions, la satisfaction d'un désir déconditionné, son déploiement optimiste, ainsi qu'une jouissance ni refusée, ni imposée. Chez Mira Schor, les parties du corps et en particulier celles du sien propre agissent comme autant de "refuges" pour abriter sans la cacher, une pensée en action qui ne craint ni l'indépendance, ni le débat (qu'elle appelle avec force) et encore moins le "plaisir visuel" revendiqué d'œuvre en œuvre. Ces mots peints à même la toile font du langage une image. Une peinture avec l'image et le son. Avec Mira Schor, le plaisir n'est pas un drame intériorisé qui complique l'existence, il est conté par la peinture pour en réduire les affects et les traumatismes. Cette identification constante du plaisir augmente le temps des désirs, débloque le flux des émotions et de l'imagination. Si la loi, l'autorité et l'ordre patriarcal attireront toujours les passions (et inversement) comme autant d'éclipses quotidiennes, les peintures de Mira Schor seront toujours du côté de la lumière.
(1) exposition "dans la tiédeur de la nuit", 12.12.20-20.03.21, avec Michael Dean et Tirdad Hashemi
(2) M/E/A/N/I/N/G est paru deux fois par an jusqu'en 1996 et a été une tribune pour de nombreux·ses artistes (Marcia Hafif, Nancy Spero, Pamela Wye), critiques et historien·ne·s d'art (Amelia Jones, Robert Storr, Johanna Drucker). Duke University Press a publié en 2000 une anthologie des textes tandis que la revue a continué en ligne jusqu'en décembre 2016 avec la publication du dernier numéro qui a marqué la fin d'une aventure éditoriale de 30 ans. Les textes de Mira Schor publiés dans la revue ont été reproduits dans l'anthologie Wet: on Painting, Feminism and Art Culture (éd. Duke University Press, 1997) devenu un classique des études féministes dans l'art. Elle a publié en 2010 une nouvelle collection de textes intitulée A Decade of Negative Thinking.
(3) série Story paintings, représentée dans l'exposition par Interior with the Moon, 1971
Née en 1950, Mira Schor est une peintre et autrice new-yorkaise. Elle est diplômée du California Institute of the Arts en 1973. Son travail a été présenté dans des expositions collectives à June (2021), Kunsthaus Graz (2020), Kestner Gesellschaft (2019), The Jewish Museum (2010), Hammer Museum (1996) et P.S.1 (1992). Elle a reçu plusieurs prix pour son travail de peinture de la part d'institutions telles que le Guggenheim, Rockefeller Foundation, Marie Walsh Sharpe, Pollock-Krasner Foundation et a reçu le prix Frank Jewett Mather de la part du College Art Association pour ses écrits sur l'art. En 2019, elle obtient le prix Lifetime Achievement de la part de l'association Women's Caucus for Art pour l'ensemble de sa carrière d'artiste féministe, historienne de l'art et critique.
Mira Schor est représentée par la galerie Lyles & King à New York.
Remerciements : Isaac Lyles, Geena Brown, Allyson Pinon (Lyles and King, New York), Louis Chaumier, Géraldine Gourbe, Romain Grateau, Virginia Quadjovie, Josselin Vidalenc